Vissmate Grease Remover
Stubborn grease problems solved!
Vissmate Grease Remover eliminates burnt stubborn grease and dried difficult food dirt immediately. It cleans easily without damaging the surface with its bleach added powerful formula and offers excellent brightness.
NO PLACE FOR BURNT AND STUBBORN GREASE ON SURFACES!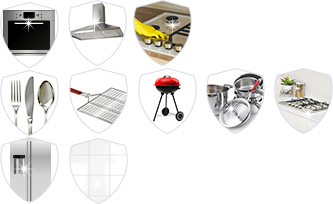 Cooker, oven, hood.
Grill, forks, knives and spoons, pans, barbecues, sinks, counters and cupboards.
Refrigerator, tiles and ceramic surfaces.
Direct use: Apply directly to the greasy surface and wait until the grease has dissolved. Then rinse with plenty of water. (Wait at least 10 minutes after the application on the burnt pots.)
Diluted use: Mix and apply 1 teaspoon (100 ml) Vissmate Oil Remover to 1 liters water to clean the kitchen surfaces and cabinets. Then rinse with plenty of water.